Do you think about selling your waterfront property, but are not sure if you should? Perhaps you have tried selling unsuccessfully in the past? This was the case for my clients at 53 Neptune Lane on Parker's River. After several failed attempts at 2 other brokerages, they were skeptical, and somewhat reluctant, as they did not want to be disappointed if yet again their home did not sell.
To put them at ease, I offered a listing agreement that would expire in 30 days. I assured them that not only would their property sell, but would result in multiple offers. I was confident that my exclusive list of buyers would have several interested parties, in addition to other clients of our firm's associates. My suggested list price was higher than the bottom line price my clients suggested.
53 Neptune Lane, South Yarmouth
Much to their surprise, we received multiple offers and the property was under contract within 4 days. My clients were to net an extra $100,000 over their bottom line – resulting in the highest sale on Parker's River in 2020.
Then an unexpected obstacle occurred.
ith this newer built home, septic issues were not anticipated. To accommodate the raised septic design, 3 stone retaining walls were previously blended into the system to achieve an aesthetically pleasing appearance to the front yard. But now there was a crushed pipe 6 feet down, located under these retaining walls. And while this was not affecting the function of the system, it would definitely not pass inspection until replaced.
Now what?
53 Neptune Lane, South Yarmouth
The walls prevented equipment access. Estimates to repair ranged from $50K-$100K, with suggested remedies including removing existing trees in the yard, and demolishing the stone retaining walls to reach this one pipe. After consultation with several key contractors with whom we work closely, we resorted to old-fashioned digging. My clients are grateful for the wonderful team that made this happen, as this became a $6,000 solution, whereas it could've cost over 10-15 times that.
The result? 53 Neptune Lane holds the 2020 record high sale on Parker's River.
When problems arise during the sale process, it is important to have a brokerage that will be there to troubleshoot and suggest "out of the box" solutions – especially affordable ones. At Property Cape Cod, we care about getting the job done for you, all while making you the most money.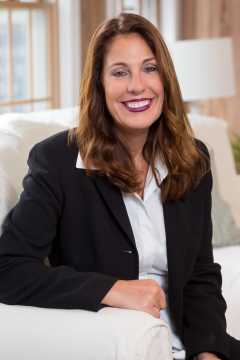 -Tia Lilly, Founder, Broker/Owner
508-280-5728